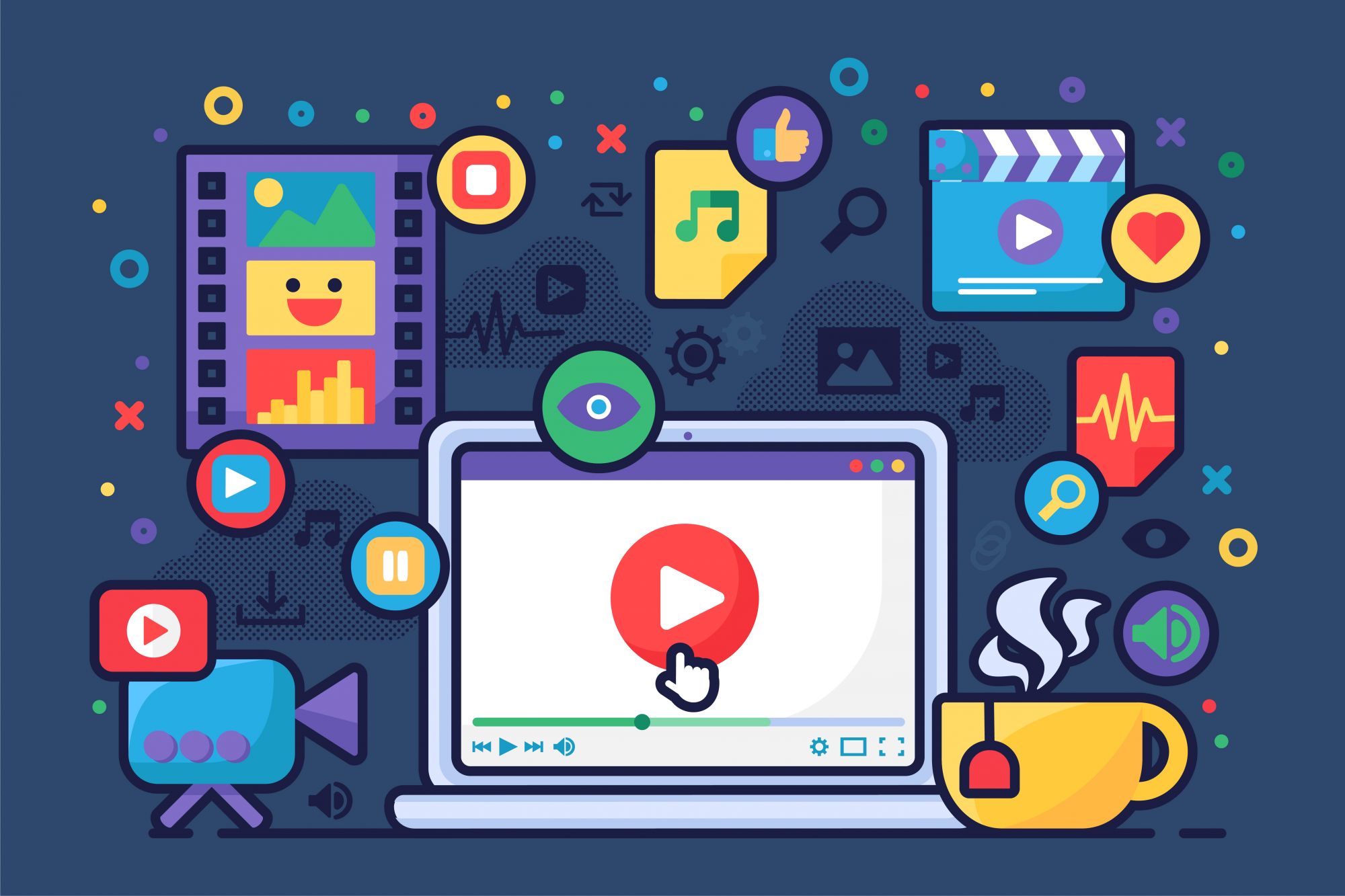 Most of us know that trends come and go very quickly. Whether it be in beauty, technology or even marketing, it's hard to keep up on what is popular. The same can be said for the ever-growing video sector. While jumping on trends too quickly may not be such as good idea, it's good to be aware of them as you continue to improve your video marketing strategy. It can be hard to keep up with all the trends, so here are 12 innovative video marketing trends you should keep an eye out for the rest of 2020.
1)Facebook Live may be dead, but LIVE video lives on
Facebook Live, Facebook Watch and regular autoplaying Facebook videos haven't seen the greatest results, thus resorting to the complete shutdown of some of them. Live video isn't a trend that is disappearing altogether. The concept of live media is still a very engaging one. Do you want to know the secret to it? Live interactions with real people!
On Instagram or Snapchat, for example, you may have noticed that some people you follow "go live" multiple times in a day. Those live feeds usually consist of answering questions or requests that are being submitted in real-time by other users. This kind of content takes advantage of the ephemeral (short-lived) nature of the moment. While you have to option to save these live events on Instagram, the odds of re-watching live stream later are slim. This is what makes this style of video so influential. It creates the old sensation that live TV and live radio conveyed in the past. People all around the world or country are experiencing the exact same thing at the exact same time. Live video is here to stay!
2)Videos will become "shoppable"
"Shoppable videos" is another trend blowing up. These are video ads that feature links to products you can purchase through the video stream. Instagram Stories and Snapchat feature these. The options for "shoppable videos" are limitless. Most likely you will see more videos that highlight products in a story's stream, often with a shoppable link. In the future, for example, you may be able to make a purchase by interacting with the products in a video. Say there is a chair shown on screen in a video, you may be able to hover over it and find out more about that chair and where to get it, hence shopping within a video.
3)Interactive 360 video technology will expand
Interactive 360 is a huge trend right now. Through it, you can experience everything from Broadway musicals to sports games all in a video. It is an immersive and futuristic-style video trend that you will only see more of thanks to advancements in AR and VR.
While it is not so easy to produce on your own, it can be a great way to set your videos apart from your competition and really draw in customers. There are many Cleveland video production companies or videographers who can help you with this hot trend.
4)One-On-One (1:1) video experiences will continue
This year we saw a rise in people working from home, thanks to Covid-19. Software like Zoom and Skype saw an increase in usage because more and more people are at home and social distancing. Live video conferencing between two people still has its place and this type of experience is only positioned to grow in the future (especially in these uncertain times). The ability to see another person across a screen and look them in the eye is an intimacy that a phone call or an email just can't top. One-On-One video experiences are a great way to communicate effectively and personally.
5)Everyone will be vlogging
Vlogging, video-style blogging, continues to grow. It may be easy to poke fun at vloggers, but this trending video genre is hard to overlook. Now a days there are numerous vlogging platforms available such as YouTube, Instagram and Snapchat, and with the addition of live streaming, vloggers can expand on the type of content they show. Some, for example, turn live streaming into their weekly or daily vlogging content while saving their more polished, professional videos for airing once or twice a week. Vlogging is hot right now. Whether it helps or hinders the burnout problem, one thing is for certain, vlogging not going away anytime soon.
6)Videos will be easily searchable
Over the years, search engines like Google have integrated video into their main offerings. Video searches are quickly becoming a top competitor of organic search results on both desktop and mobile devices. Google recently announced that they'll be using AI to identify pieces of video-related search requests and have these autoplay on search results pages. This will make video even more important to effective search optimization for your business. It will also increase the need for improving your video content for search results, just as it would with an article that you were hoping would rank well in a search.
7)Training and education videos will expand
Training and education utilize video on the internet like no other sector. Think about Masterclass or the many video tutorials that you can find for free on YouTube or that you can pay for through other similar sites on the internet. This trend is poised to grow and more brands and businesses will likely start creating their own content to teach people how to use their products. People already Google "how to" on various topics. It's only fitting that they use Google to search for "how to videos" as well. People would much rather watch a video than read directions on how to do something. For this reason, videos are much more useful content. Take Ikea's furniture for example. The popular brand doesn't usually provide detailed instructions on how to put their furniture together. Since they are an international company, their instructions only include what is necessary and they mainly include images and no actual words. This can be frustrating and very hard to understand for anyone. So what would you do? Google a how-to video tutorial! YouTube has an entire community of people who created whole video channels devoted to constructing Ikea furniture. Problem solved!
It seems like Ikea missed this opportunity to create their own instructional video content for their products. They need to jump on this trend to set themselves apart from other companies and be more helpful to their customers.
8)There will be more "stories"
As we mentioned in the vlogging section of this post, ephemeral stories (stories that only exist for a short period of time) have become the new form of vlogging. They are done in the moment and don't require a whole lot of editing and special effects, so they have lowered the bar for people who want to be amateur video personalities. Anyone can do it. No need for a big video production company or advertising agency. This style of video will continue to gain popularity as more and more platforms introduce ephemeral stories.
Ephemeral stories is a platform that people will watch and they aren't going to be overly critical or picky about what they see and the quality they expect. This means we could even start to see things advertised within the streams of the video. Podcasts have done this sort of midstream-style advertising quite successfully. They are usually presented by the show's host and sometimes can be live or taped. These are successful and work because most viewers or listeners have an intimate connection with the host or personality. As with these personality-based types of content, seeing or hearing them recommend a product is really effective.
As advertisers look to invest more in this style of advertising, expect to see the ephemeral stories trend continue to be popular.
9)More platforms with more video dimensions
As more platforms are launched, the preferences for video dimensions, whether it is in square, horizonal or vertical format, will expand.
With platforms such as YouTube, Snapchat and Instagram Stories, vertical video has increased in popularity. However, IGTV, Instagram's video platform, failed when it tried to force users to upload vertical content. Many people ended up freebooting content from YouTube and rotating it ninety degrees to fit the vertical dimensions. And as a result of the low usage of it, Instagram has now announced they'll support normal horizontal video on IGTV.
Something similar happened with square video. It was once thought that square video content performed better on Facebook and was more fit for Instagram whose content was usually posted and rendered into a square. Since then, the platform is now supporting photos and videos in broader dimensions. Square video is not as present on Facebook and YouTube still hasn't fully embraced it.
We have no idea which video dimension will be trending in the future. Will we see more square videos? Will it be vertical.? Only time will tell. Just make sure you are paying attention to the trends.
10)We'll all be watching silent videos
The idea of watching video with no sound came from when Facebook introduced their autoplay feature. Autoplay automatically plays videos within your stream with no sound. This was a game changer. Facebook also later admitted that it was counting a minimal amount of seconds as full views, no matter how long or short the video was. This idea of watching videos with no sound caught on.
Whether Facebook knew they were on to something or not, more and more publishers started to create videos with subtitles and enough animation and images to give context over what they were watching with no need for sound.
Instagram now has this autoplay feature as well as platforms such as Twitter and LinkedIn. As autoplaying video continues trending, so does the use of videos with no sound.
11)Video ads will become immersive, mid-roll and longer
As we remarked in the 360 section of this post, immersive video experiences in AR or VR are gaining momentum and interest.
Immersive stories are the next big thing in advertising. Immersive ads can give customers a sense of what their life would be like after buying or using your product. For example, imagine being able replicate a product you sell, allowing customers to see which color would look best on them or how the product would fit into their life. Or a productivity tool that customers can interacts with so they could see their schedule being organized in a new and intuitive way. That's the power of immersive ads. Combining AR or VR with your live camera to get your product into the hands of potential customers – virtually!
Platforms are slowly, but surely, introducing mid-roll ads. YouTube has used mid-roll ads for years, while Facebook has been talking about using them for a while, but hasn't quite pulled the trigger.
Mid-roll ads are reminiscent to the days of linear television where adds pop up in the middle of shows or videos with no options to skip them. The problem with short videos on platforms such as YouTube and Facebook, is that the videos aren't long enough or formatted in a way that an interruption, like an ad, can take place. But expect platforms to keep exploring this concept.

Video ads are constantly getting longer. According to MediaRadar, from January 2018 to February 2019, the number of 6-second video ads on YouTube declined by 20% year-over-year to 16.5 % of all ads. By comparison, the number of 30-second ads rose from 19% year-over-year to 24% of all ads.
Along with the length of ads on video, another change will be the duration of the ads that play on sites before users can skip over them. YouTube experimented with increasing it to 15 seconds, which is the middle ground of not too short, and not too long to explain your product. This longer video trend is set to continue into 2021. Take note.
12)More showing, less explaining
Showing, not explaining is a trend that will continue in video content. Video allows for a us to do more than just provide information in text or as a voiceover. It allows for us to show what things look like, how things work, what they're made of and how they can fit into your life. Sometimes this even happens all without words! Think about that Ikea furniture or the immersive ads or silent videos trends.
What video trends do you want to explore?
Video marketing trends are everchanging. That doesn't mean they all shouldn't be explored. You just have to make sure that whatever you are trying fits into your marketing strategy and has a good chance of working for your specific audience.
Avoid going "all in" on something you haven't fully tested. Over the years, many publishers such as Mashable or Mic, have completely reformed their business to produce video content for platforms like Facebook, or go "all in" on live videos, ending up having major layoffs because the market wasn't there for that type of content at the time. Don't let this happen to your business.
Approach these trends as experiments that may help you connect with your audience in new and exciting ways. If they don't work, write these experiments off and try a new one. If some work, then they can gradually become a more important part of your video marketing strategy. Trying new ideas is the only way to innovate and potentially gain a heads up on the competition. Explore them all!

For any and all of your video marketing needs, visit us at ultimo-media.com.