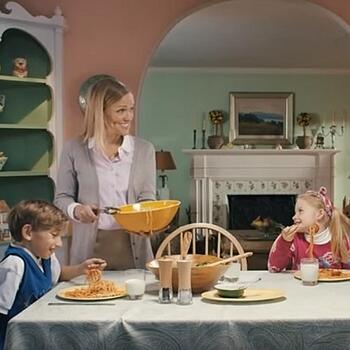 Video advertising is a great way for your company to generate sales, brand engagement and to find new potential customers. In this article we are featuring 7 impressive video advertising examples for you to learn from and everything you need to know to start creating your own video advertising campaigns.

Reaching your brand's target audience online can be both easy and hard, depending on how you look at it. Video is the king of digital content and it is now easier than ever to create and share them online to your audience. The down-side is that everyone is doing it. Most brand are getting involved with video advertising these days so you will need to stand out. You will need to create something truly exceptional and perfectly tailored to your audience if you want to be seen. A powerful video advert is one of the most effective ways of getting through to a very specific portion of people where they already spend their time… online. Video is a surefire way of communicating your message across all kinds of channels, including ads.

Below are 7 successful and notable advertising campaigns from companies, plus the strategies that made them successful. Take note, and apply these tactics to your own marketing campaigns.
What Makes a Great Video Ad?
First, let's take a look and see what the elements are of a successful video advert. A great video should meet the following criteria, with a few exceptions:

It grabs the eye in the first few seconds.


We live in a busy world. Your video should grab attention in about the first 3 seconds. Draw your audience in with something eye-catching. Use a professional videographer to make your video striking.

It keeps viewers invested with an emotional core.


Your ad should offer something valuable to the viewer, otherwise they won't want to waste their time viewing it. Appeal to their human emotions. Be entertaining, inspiring or educational even.

It's tailored specifically to the audience.


Make sure to tailor your content to your target audience's feelings or state of mind. One of the key benefits to video ads is how carefully and specifically you can target them.

It has a clear Call-To-Action.


Make it clear to your viewers of what you want them to do after watching your ad. Make it easy for them to do it and encourage them to get involved.

It's no longer than it needs to be.


Successful ads can be up to several minutes long, but they still need to be effective and concise. Take as long as you need to communicate your message but don't drag it out. People get bored quickly these days.
7 Stunning Video Advertising Campaigns to Learn From:

1. Dollar Shave Club: Our Blades are F**king Great
Dollar Shave Club created a viral hit in 2012 when they released this video ad.

This ad gets a lot right. It starts with Dollar Shave Club CEO Michael Dubin talking into the camera at the viewer with a cluttered office background behind him. He delivers a punchy joke, complete with an F-bomb, within the first 15 seconds. Playing off the success of quirky recent ads like Old Spice, this ad targets 18-35 year old males and makes viewers laugh, reevaluate how much they are actually spending on razors and finally directs them straight to the DollarShaveClub.com website.
Dollar Shave Club, at the time, was a relatively unknown company with a limited budget to spend on an ad. They really needed to get there name out there and to have people talking about them, so it was vital that they made a big impact with their ad. This strategy paid off for them as they sold the brand to Unilever for $1 billion just four years after running the ad.
2. Geico: Unskippable
YouTube pre-roll ads give viewers the option to skip after 5 seconds, so some brands like Geico got clever.

This ad is part of a four-ad campaign from Geico that feature a video ad that technically "ends" after 10 seconds but really carries on awkwardly for another minute or so afterwards. It's a stroke of genius from the American insurance provider.
Geico knew that roughly 94% of all pre-roll ads on YouTube are skipped. They put the emphasis on the first 5 seconds of the video, creating a sense of expectation in the viewer that made them inept to stop watching. The ad is probably longer than it needed to be, but that's what makes it so funny and awkward. This video also doesn't feature a proper Call-To-Action but they do have a massive company logo in the middle of the screen assuring brand awareness. Overall, this Geico ad is a quirky, unique campaign that makes viewers smile rather than feel frustrated or annoyed that they have to sit through an ad. And it is definitely memorable enough to trigger discussion.

3. Knorr: Love At First Taste
The food brand Knorr created an ad campaign centered around people's love of flavors and tailored it for success on social networks such as Facebook.

Millennials are doing a lot of dating these days and up to half of all millennials view themselves as 'foodies'. So Knorr saw this as an opportunity to reach millennials. The brand's global research project found that people are more likely to be attracted to those who enjoy similar flavors. By having strangers looking for love meet for the first time over a fun meal, and requesting that they feed only each other, Knorr tapped into the trend seen on social media for videos featuring food, romance and real-life situations.
This ad ran across Facebook, YouTube and other social networks and Knorr even partnered with the foodie community, Tasty to help share the video. Through this, viewers were directed to a mini-site where they could fill out a favorite foods questionnaire, which directed them into one of 12 flavor profiles. This ad was specifically edited for the platform it appeared on. For instance, this Facebook version has subtitles so that viewers can watch without sound.

4.Always: Like a Girl
In this Ad, Always turned the age old "insult" of "like a girl" into a message of empowerment and confidence for girls and women.

Feminine hygiene brand Always did research and found that confidence and self-esteem plummet for girls during puberty twice as much as they do for boys. There are many reasons, but one cause is the hurtful stereotypes that label women and girls as "lesser" than men and boys. For instance, when someone says you run "like a girl" or hit a ball "like a girl," it is meant as an insult. Always attempted to tackle these stereotypes with this powerful ad. They wanted to empower young girls as well as appeal to the next generation of customers. They chose YouTube pre-roll ads to maximize views and reach, complemented with social posts and influencer outreach.

5.Squarespace: Make You Next Move
Video advertisements aren't just for brand awareness. They can also be used to target your leads at any step in the buyer's journey.

This video ad for Squarespace features a look behind one of their customers: Actor-turned-fashion designer, John Malkovich. This type of ad wouldn't be suited for someone unfamiliar with the Squarespace brand, but it is a great way to build social proof and stay on the mind of those who are familiar with them in some capacity. A restarting campaign is a great way to promote this type of video advertisement. Squarespace is a confident and consistent brand that uses video ads to connect with leads at all stages of the funnel.

6.Burger King: Pre-roll
This Burger King ad pokes fun and bemoans YouTube ads while also being one itself.

There are a whopping 64 variations of this video depending on what the viewer had been trying to watch on YouTube. The video references a variety of things that the viewer might have been wanting to watch on YouTube before the ad started playing, including movie trailers, music videos and even "graphic animal attacks." It is clever by using Google AdWords' ability to play ads before specific YouTube videos based on content and keywords. Since Burger King were looking to reach young men in New Zealand, they picked a few of the trending videos in the country to advertise alongside.

7. Volvo Trucks: The Technician
This Volvo Trucks ad campaign is one in a series called Live Tests.

Volvo Trucks goal for this video ad campaign was to get up close and personal with their products, while also making it as engaging as a Hollywood movie. Each Live Tests video features trained professionals doing stunts and showing off Volvo Trucks' many features. You may have seen their other more popular video ad, The Epic Splits featuring Jean-Claude Van Damme. All of these videos feature remarkable stunts with a huge visual attraction and an engaging story line. Volvo Trucks were looking to gain brand awareness but not necessarily video views. They were more interested in real engagement from prospective customers. That is why this video example is so interesting. It generated exactly the response Volvo was looking for from potential customers ( such as excitement, disbelief, shock-value).

Volvo had a fairly weak advertising budget so they understood their YouTube ads needed to be backed up with clever PR strategy that involved sending out information about the stunts to encourage bloggers and news media to watch the video ads too.

Keep Your Brand On Consumers' Mind with Video Advertising
That was 7 examples of video advertising campaigns that grab their audience's attention, keep them engaged, manage to share their brand's message in order to generate sales. Video ads are just a part of a bigger video content marketing strategy which should cover how video content works to support your goals throughout the marketing funnel. It should also include a combination of paid, earned and owned kinds of video so you can cover all your bases when it comes to reaching your target audience both regularly and broadly. Apply these strategies to your own marketing campaigns and be sure to use a professional video production company to make your videos stand out from the crowd.

For any and all of your video marketing needs, visit us at ultimo-media.com.