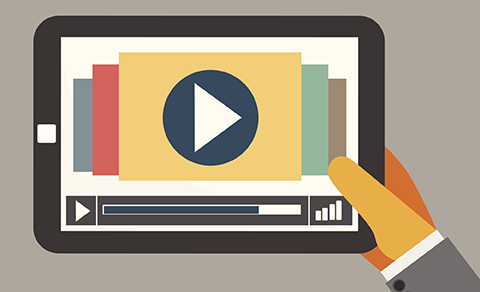 4 KEY FACTORS TO VIDEO MARKETING :
See How Your Company Can Benefit From This Trending Marketing Tool
It is 2020 and advancements in technology and a rise in smartphone use has made it easier and more affordable to create a good, quality video. Whatever reasons you may have to integrate video marketing into your business, you need to start now. Now is the time to hop on this big trend. A Google Advertising Attention Research report showed that before consumers go into a store, an estimated 50 percent of them will search online for a video to watch relating to the product or service. So if you have no video content, it could be affecting your sales. Video should take lead in your company's promotional strategy.
Why? A forecast from Cisco says that by 2022, over 80 percent of web traffic will be video. With platforms such as YouTube, Facebook and Vimeo, it is easier than ever to get your video on the internet. Video is a great marketing tool that is both profitable and versatile. If you are wondering how it could benefit your business, here are four essential ingredients to video marketing that might persuade you.
STORYTELLING
Many people find visual representation more engaging as it can create emotion. How you deliver that story is fundamental. Video allows you to get creative with the power of both sound and vision. Your goal with storytelling is to connect and build lasting relationships with your audience. Video marketing will enable you to do so, which will drive traffic, increase leads and renovate sales. With storytelling, you need to find a balance of both humor and suspense to drive your video. Let them relate to you. Excite them!
SOCIAL MEDIA
Let's face it, we live in a digital world. Social media channels are everywhere and most of them have a video option. Using platforms like Facebook or Twitter can help content go viral due to the level of reach they have. Out of all the social media channels out there, LinkedIn has been proven most effective for delivering content that helps to build both trust and engagement with its users. With LinkedIn you can share a post across multiple channels, however, each post should be tailored to the specific platform and its audience. A statistic from Wochit states that in 2018, tweets that included a video rather than a photo got over six times as many retweets. Remember that each social media channel is different, each have different features and audience. Take Instagram for instance. Some users may prefer for a photo over a video in this platform.
ENGAGEMENT
To help gain the audience's trust, interactive videos should be placed into your marketing strategy for engagement purposes. If they engage in your content more, the audience will start to trust your brand. An example that increases engagement are videos of FAQ. Answering questions on video helps you to seem more relatable to your audience. They will feel valued and will believe that they are getting the information that they want. Live videos, thanks to Instagram stories and Facebook live, are becoming increasingly popular. This is another way to engage. Videos of customers reviewing your product or service can also increase engagement just as much as the videos you create on your own. Both types of videos can make an impact on your brand's image.
SEO
Since Google bought YouTube in 2006, the increase in video use has affected search engine ranks. If your goal is to show up on page 1 of Google, consider embedding a video to your website. The way search engines determine if your site has good content is based on the amount of time users spend there. By adding video content this increases the likelihood of visitors staying longer on your site. To improve your video, write titles and descriptions of the video as interesting and as engaging as possible. This will allow for your video to gain visibility and longer exposure. Also, include many keywords that will rank high and include a link back to your website or landing page. Ubersuggests is a really useful, free tool that helps with keyword ideas.
Here's a slick little infographic we put together if that's your kind of thing.
New to video and don't know where to start? A professional video production company or videographer is the best guide!.
For any and all of your video marketing needs, visit us at Ultimo-Media.com.