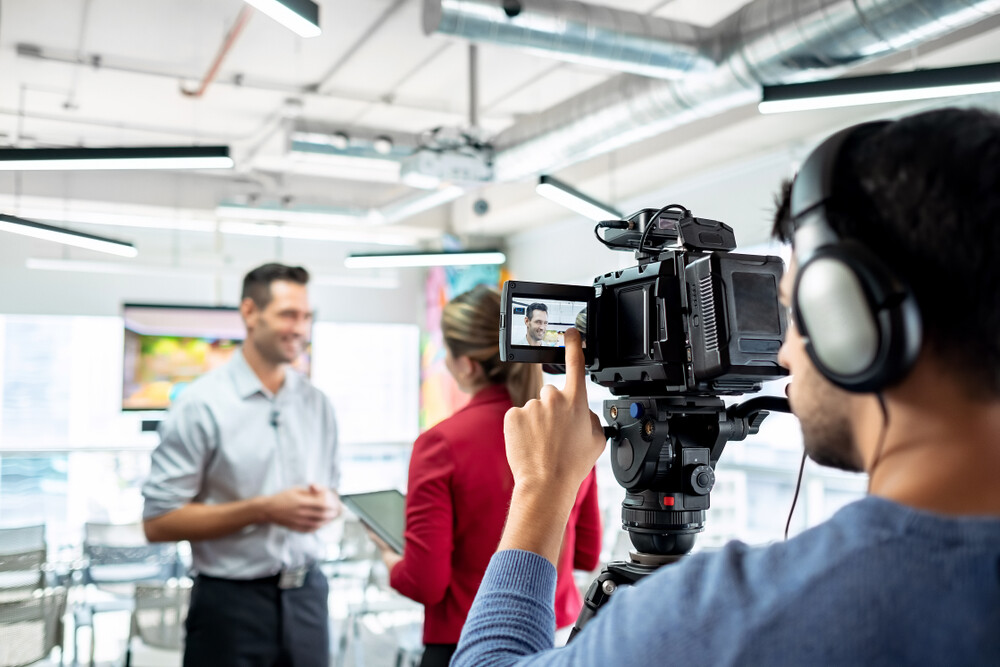 Videos are ubiquitous. From ads in apps to top online search results, they're on every screen everywhere. That very fact might make you wonder, "Is video even worth it anymore?"
We admit that today's high saturation of videos can be mind numbing. But it's time to shock ourselves into reality––video is in fact one of the most versatile and profitable digital marketing tools available, and it's right within reach. You can either dive in, or let potential customers connect with a competitor's video, company, and product. There really is a lot at stake.
But before you run to sign up for this supertrend, let's get into a few solid reasons why videos will do your business good.
Authenticity Drives Connection
While yes, in the beginning your business and your brand may have been just a plan in your dreams, it took energy, drive, and investment to bring it to life. Capitalize on those efforts using video, and convey what text never can. Sharing your story and your brand's philosophy through a well-produced video in front of the right audience will create an instant and authentic connection that's hard to shake. And that can get you big returns, in the form of increased ROI and audience engagement.
Stories naturally tap into emotions, and oftentimes those feelings are universal. When customers feel like they're a part of something bigger, when they're part of your brand, retention is enhanced and loyalty is far more likely. Videos are also a prime way to break down complex information and simplify things, speaking to potential customers on a level playing field and improving your overall company narrative.
Search Engines Love Videos
If you're anything like most other businesses with an online presence, you're probably constantly working to figure out what Google wants to see on your site. You want a spot on that coveted first page, and guess what? We'll save you a little research and clue you in to the fact that algorithms are favoring videos more than ever. Think about the results last time you searched online––did videos appear before anything else? They likely did, and there's a lesson there.
Videos are the essence of unique, data-rich content; no two are the same. Videos capture so much more than the actual words spoken or heard, and search engines know that. The layers of subtlety are what's compelling, and so they offer these results first, knowing that most of us prefer watching to reading. Some industry experts put a number on this observed reality, estimating that video results are 50% more likely (than traditional web pages) to show on the first page of online search results. Videos that are housed on Youtube may offer better results still.
Engagement = Traffic
The more that folks are interacting with and spending time on your website, the more likely it is that search engines will pick up on that high level of engagement. And that means an increased likelihood that your page will be deemed as valuable and will show up higher in future searches. Why? Because the more time visitors spend on your site before revisiting search results spells a lower bounce rate. And search engines like low bounce rates; it tells them that your site has something great to offer to folks searching for products or services like yours.
Engaging videos will keep visitors on your site longer, just by virtue of them wanting to finish out the stellar content and then explore further. If they feel connected to your brand and product after the video, it's easy to see how they'll invest more of their time on the rest of your site. In fact videos could lead visitors to spend over twice the normal time on your website. Business owners and search engines, take notice!
Increased Conversions and Sales
Now that you've offered site visitors entertaining and engaging content, the likelihood that they'll become customers is drastically higher. That's called conversion–moving from site visitor to subscriber or customer–and videos can do wonders to move that metric. One of the key reasons this is true is because videos offer a unique opportunity to speak directly to customers and tell them exactly what you want them to hear about your company, brand, and product. You can quickly and easily distill vital information into an easy-to-digest and light-hearted format.
Sure, videos are trendy, but they're so much more than that and are truly your best, most versatile sales, branding, and conversion tool, hands down.
Everyone's Doing It
Getting into using videos isn't just a follow-the-crowd sort of decision. It's more about keeping up with what customers want to see when they visit your site. And increasingly, that's some form of media. It's no longer novel to have several social media channels going, or a regular Youtube presence––it's becoming vital to companies' survival. Because regardless of what you sell, compelling media will help you sell it better. That means that every company out there, on top of doing a great job at being themselves, also needs to be a media company. Lots of your customers are probably creating content of one kind or another, so it's a given that they'd expect companies they patronize to do the same.
It's time to start thinking like a publisher and finding organic ways to prioritize your brand while also satisfying your consumer. Video is the answer, but it can be overwhelming to get started. It's good to know that help isn't far.
Ultimo Media: Your Cleveland Video Marketing Agency
If you're ready to work on building a strong custom digital media program but don't have the in-house talent to create videos that accurately reflect your brand, you'll want to fall back on an expert video production company. Ultimo Media provides all the skills and know-how required to use videos to showcase your business, boost engagement, and ultimately grow sales. We're a video creative agency that gets what both consumers and businesses want, and we're ready to take on your project. Reach out to learn more about how videos can up your marketing game, and to get started on a free quote!